Teach Football Anywhere with
Game-based Mobile Learning
Teach Football Anywhere with
Game-based Mobile Learning
Cutting edge mobile
learning with Team Nation
Revolutionizing the way football teams learn, Team Nation utilizes gamification to transform team concepts, film study, and playbooks into simple games and actionable data. Through bite-sized mobile learning games, Team nation increases football IQ, play recall, position mastery, and situational readiness. Learn how.
Teach Football with Mobile Learning Games
Teach your football system with Team Nation's games generated from your plays, film, & other content. Deliver scouting reports, installs, team trivia, unit specific content, training programs, and more.
Enhance Learning with Pre-Built Lessons & Quizzes
Teach your players core football concepts with game-style in lessons in app, immediately. Access pre-made, presentation style lessons and flashcard style quizzes from the content library. 
Digitize Your Team's
Plays & Formations
Build your football plays in a sleek, easy-to-use play maker, or pull & edit plays from the pro-built playbook library.
View Player Usage,
Readiness, & Football IQ
Access mental readiness scores per unit, position, athlete, and lesson so you can make data-informed decisions.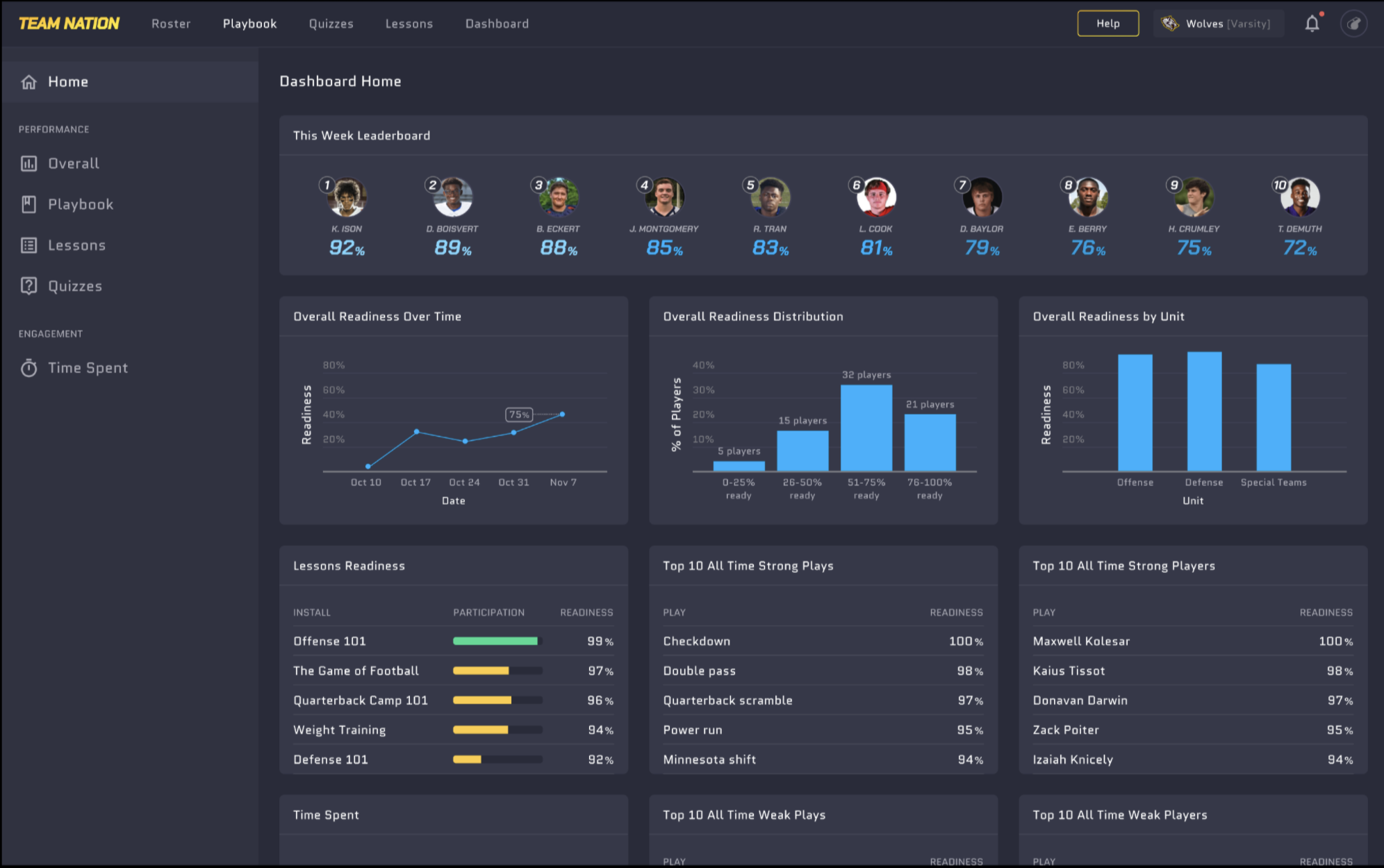 Win More Games with Mentally Prepared Players
Prepare before the battle. After all, games are won in practice and in the mind. Help your athletes attain a champion mindset and become their best.
"Leveling the playing field in education is the dream—starting with football." 

-Steve Young

|

NFL Hall of Fame legend & Team Nation Co-founder
If you're ready to level the playing field in football, or just level up your program, it's time to try Team Nation. Our founding team of educators and football pros have developed a game-based coaching system to get your athletes learning, faster. 
With mobile learning at your fingertips, your team will gain anytime access to your digital playbook, scouting reports, custom lessons, and endless learning games.
Build your playbook online, or pull from the pro-drawn playbook library. Teach football, fast, by adding our pre-built core concept lessons and quizzes, or build your own. Team Nation's gaming engine will create the learning games so you can focus on using the real-time analytics to make data-driven decisions on the field.
Even in the NFL most guys don't know the whole playbook. When you break the huddle someone always seems to ask "Hey, what's my assignment?"
I am loving Team Nation! I have our offensive coaching staff completely sold on it. This is a game-changer for our program and going to give us a real competitive advantage.
I'm always looking for ways to effectively teach the playbook, improve retention, and elevate players' football IQ. Team Nation has a customizable, high tech, football specific tool that brings world-class methods to playbook education. Through Team Nation's gamification, players will be able to comprehend installs more effectively and coaches will have the ability to make data-driven decisions to ensure our players are game-ready.
Get Your Players Recruited
See why teams Teach
Football with Team Nation
Join university, high school, and youth teams across the globe already teaching their playbook, concepts, and film with gamification.
Try Team Nation
for 30 Days
Launch gamified learning for your team in <15 minutes.